I often find that business owners and individuals have a hard time identifying relevant keywords for HootSuite searches and for their business communications in general. Finding keywords often requires thinking out of the box, and this is especially hard if you're thinking of your own business! For example, if you own a snow removal business, you've been conditioned to think of what you do as "snow removing" and not as "snowplowing." It is possible, however, that some of your potential clients are looking for snowplowing, and if your competitors know that and you don't, they are a step ahead of you in the game.
How to Find the Keywords That Are Relevant to Your Business
Open an account with Google AdWords:

 

http://adwords.google.com/
Go to Tools > Keyword Planner (formerly Google keyword tool)
Click on "Search for new keyword and group ideas"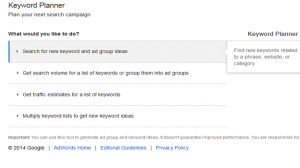 Type in the relevant phrase – the words you use to define your business. Alternatively you can type in the URL of a relevant page from your website, preferably one that lists your services or explains what you do. Google will scan the page and will give suggestions accordingly. I recommend trying it both ways – once with the keywords and once with the URL.
Consider targeting your keyword results – you can narrow results based on language, location, etc.
Hit "get ideas", choose keyword ideas, and look at the list that comes up.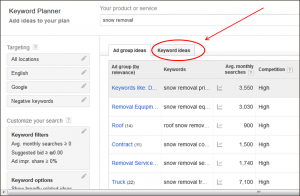 Browsing the list will give you a pretty good idea of what people are looking for/thinking of, that's related to your business. If you want to sort the list by volume (see the most frequently searched for keywords first), click on average monthly searches.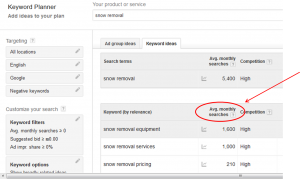 Make a list of "negative keywords" for future use. For example, if your company offers snow removal as a service, you will see that some of the results that come up deal with "snow removal equipment". Add "equipment" to your negative keywords list to further narrow your search in HootSuite – in your search stream, you will ask HootSuite to return results related to "snow removal" that do not contain the word "equipment."
To sum up, finding relevant keywords is important not only for search engine optimization (SEO) and  meta tags – it is also important in your HootSuite strategy, especially when looking for competitors, industry trends, and thinking strategically about your business communications.