Online freelancing is a great option to consider, whether you're looking to make an income freelancing, start your own business, or build a portfolio while on a job search.
There are a number of online freelancing marketplaces, including Elance.com, Odesk.com, Freelancer.com, and Fiverr.com. Such websites provide online staffing marketplaces for clients in need of services and freelancers who want to work.
A client posts a job listing describing the project that he or she wants to have done. Then freelancers can propose themselves for the job. In their proposals, the freelancers provide supporting information, such as their approach to the job, their skills, their experience, samples of their past work, and possibly samples tailored to the proposal.
Many of these online marketplaces employ a bidding system: When a freelancer submits a proposal, he submits a bid – the amount of money he would charge for the job. A client chooses the best fit proposal. To help decide whom to award the job to, he or she can also consider public reviews by previous clients. After the freelancer has completed the work, the client provides a public review of the freelancer's job.
Some freelancing sites also operate freelancing contests: A client needing a solution to a problem starts a contest. He or she promises to award a cash prize to the freelancer with the best solution. Freelancers submit their best ideas to try to win the prize. Here are two screenshots of one freelancing contest on Freelancer.com: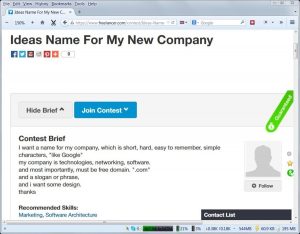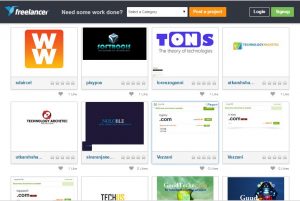 Most of these contests will not make you rich, but you can use them to build your portfolio and perhaps make some money. You can always reuse your proposed solution, even if it doesn't win this time. If you think it's good, keep your sample along with the job description and display them in your portfolio.
Leverage your job search by becoming a freelancer
Perhaps you are thinking, I don't want to be a freelancer. I want a "real job," in which I go to the office, mingle with my coworkers, and tell everyone that I work for a company. That can be understood. Still, don't dismiss freelancing; today's job market does not offer the security it used to, and it's good to have more than one source of income. In addition, freelancing can help you leverage your search for that "real job." How?
It's a way to "get your feet wet." If you're new to the job market, freelancing offers a way for you to jump right in to doing real work for real clients for the first time.
It offers easy entry. Most online freelancing is done through electronic communications; proposals are submitted according to the marketplace's formats and standards. A formal written resume and cover letter are rarely ever requested.  File servers (run by the freelance marketplace), email, teleconferencing, videoconferencing, and cloud storage typically take the place of travel and face-to-face meetings. That way, you can work for clients thousands of miles away without travel.
It will help you build a portfolio and gain valuable experience. When you write proposals for freelancing jobs and get to work on some of them, you are gaining valuable market experience instead of just applying for jobs. The market experience you accumulate can be valuable for your portfolio and job interviews. Often, while working on a freelance gig, you will learn something new that you can later list as a skill on future freelancer proposals, your resume, and LinkedIn profile.
It can lead to longer-term work. If you do good work, the company you're freelancing for might hire you as a paid employee eventually. Make sure you create a real connection and go the extra mile for them so you'll appear to be someone they would like to employ.
How to become a freelancer
The first step is to browse some of the freelance marketplaces and see which ones you would like to join. You can also open an account on a few freelancing websites. Then sign up at a marketplace and set up a profile: the profile lists your skills, job experience, and portfolio. Make sure to add something personal to your profile; speak about yourself, so clients can connect with the person behind the screen.
After your profile is ready, start browsing job listings in your field and submit proposals. If you are new to your field, start by looking for job listings that value quick creative solutions more than prior experience. Try entering a freelancing contest as mentioned earlier.
Bear in mind that online freelance marketplaces are quite fast-paced; a job may be awarded within hours after being listed. You need to keep your eye on the marketplaces you signed up for and apply for a suitable job as soon as you spot it. (If you wait till the next day to start applying for it, it may get awarded to someone else in the meantime.)
With the right apps, a smartphone or tablet can help you keep track of the freelance marketplaces wherever you happen to be. As examples, the apps Freelance Projects (on Android) and iFreelancer (on iOS) track job listings on various freelance marketplaces in real time. Some freelance marketplaces also offer their own apps.
After you've done some jobs and gotten more experience and (hopefully) positive reviews from your clients, potential clients will rely on your positive feedback when deciding whom to award jobs to. That will allow you to spend less time working on each proposal, and will boost your portfolio – whether it's for freelancing or traditional job search purposes.
Photo by Kaboompics.com